High Speed Plaster Winder
Goals:
Design of a multi-format plaster winding machine fed by a parent reel.
Results:
Distribution of empty reels by vibrating bowls, placing on shaft/chuck by digital axis, cutting of the mother reel and separation into 2 horizontal flows then winding of the plasters at very high speed. Fully automated station with a production of 35,000 reels per hour.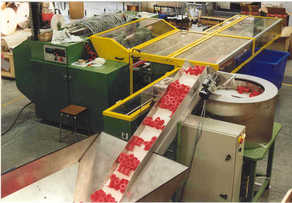 Since its creation in 1997, ASM has designed and installed more than 300 production machines, prototypes and pilot installations in France and abroad, of which here are some examples: