Food Cutting Robot by Ultrasound
Goals:
Realization of a robotic station for cutting dairy products: uncooked pressed cheeses such as raclette, morbier, edam, cantal, cheddar, etc.
Results:
Integration of a 6-axis multi-position robot with a cutting width of 320 mm. The rate achieved is one cut every 1.5 seconds up to a height of 150 mm of product.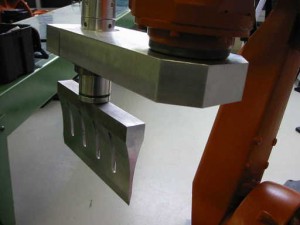 Since its creation in 1997, ASM has designed and installed more than 300 production machines, prototypes and pilot installations in France and abroad, of which here are some examples: